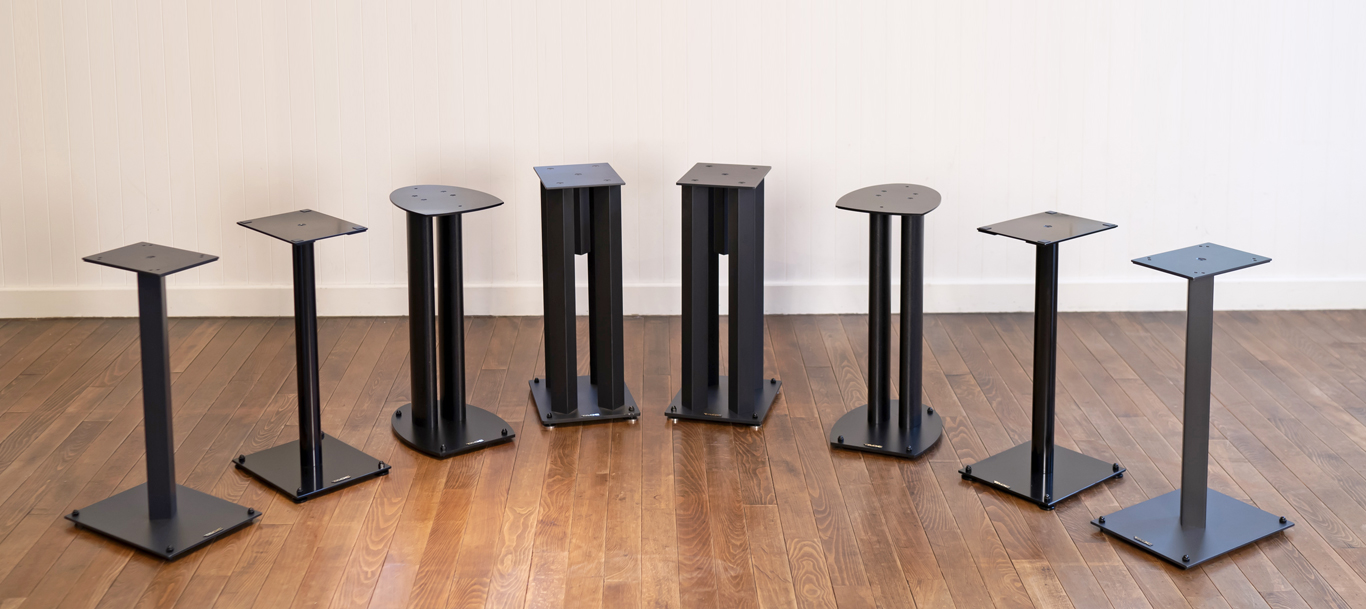 The mission of the TAOC Speaker Stand is to "maximize the performance of the speaker".

All of TAOC Speaker Stands feature ability to control vibration thoroughly to bring the full performance of Whole speaker system.

In modern audio system, Speaker Stand is requiered high performance to improve sound quality besides looks or robustness.
We have been designing Speaker Stand through core technology as sturdy pillar which features filling cast iron powder, double-structured top plate with patented friction damping technology, spike legs with vibration adsobing technology.
Thorough high rigidity, low center gravity for stability is also essential.

TAOC Speaker Stands are perfect partner for any of your speakers.
Cast iron powder that filled all the TAOC Speaker Stands.
Density , specific gravity Is strictly controlled.

The cast iron powder is further selected from those collected at our own factory, and only those that have passed the standard are adapted.
The configuration of the pillars with cast iron powder inside is apllied all of CSR rack's original pilars luxuriously, It is one of the important factors that raises the performance of CSR to the highest class in the history of TAOC Audio Racks.
Vibration level of the pillar against the vibration impact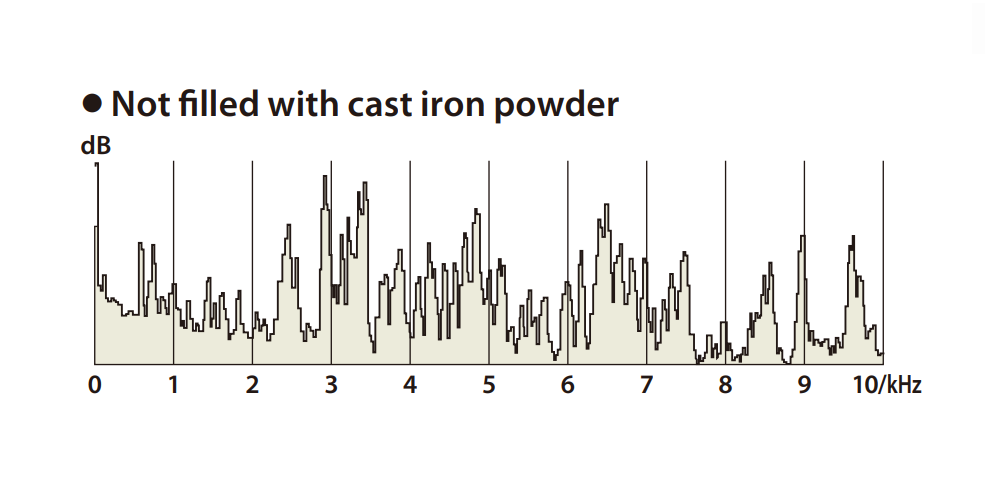 HST Series
FLAGSHIP Speaker Stand The pinnacle , our origin of the TAOC Speaker Stand, the highest class we propose will continue to be the only one over time.

Flagship HST series have been installed with high-end speakers by audio lovers and engineers who is seeking better sound whole world.

HST features grand functional beauty with four heavy-duty pillars, short one on the center of top plate. Unique 4 +1 configuration offers sharp, rich overtone , subtle expression through utilizing friction damping technology that absorbs vibration by vibrating cast iron powder.
From successive masterpieces to current high-resolution models, HST provides TAOC's finest damping for all speakers , allow you to experience exclusive acoustic space for any music.
Line up
HST-60HB
● Top plate: (W)200×(D)250mm
● Bottom plate: (W)250×(D)300mm
● Height: 600mm
● Weight: 23kg
● Finish: Matte black
● Accessories: Hex Wrench

HST-60HB
BST Series
State of the art TAOC Speaker Stand.
New concept, new values.

BST is the latest design TAOC Speaker Stands.
For all natural sound, vibration damping level and sound quality is carefully controlled and adjusted. they brings you essential original sustain and harmonics through you speaker system.
Blending tradition and innovation achieved the concept 「large dynamics, beautiful sutain, high S/N rate」
Dual plates construction top plate , pillar filled with cast iron powder and bottom plates with four point spikes.

Available in three heights(50-70) amd in two top plate size(L or M)
Spike plate insulator is designed as a form of grand piano insulator.
POLON sheets for stable setting, adding further more effective damping .

6 line up is largest line up ever in our Speaker Stand. Especially, 700㎜ pillars is from customer's voice. M size top plate is recommended for more compact speakers.
Line up
● Top plate: (M)W160×D230mm/ (L)W190×D270mm
● Bottom plate: W・250×D・300mm
● Height: 500mm/600mm/700mm
● Pillar Diameter: φ50mm
● Weight: 10kg
● Finish: Midnight Black
● Accessories: POLON sheets , Hex Wrench

BST-50L
● Model number

Height

Top plate

W160×D230mm
W190×D270mm
500mm
BST-50M
BST-50L
600mm
BST-60M
BST-60L
700mm
BST-70M
BST-70L
WST Series
Ready to sound the signature tone of world-class masterpiece in monitor speakers while bringing out all of its capabilities.

WST-60HD3

WST-60HD3 is the ultimate Speaker Stand we have designed everything specially from top plate, pillars to bottom plate for the signature tone.

WST-60HD3 features twin pole system with two beautiful oval-shaped columns filling cast iron powder for sound control and stability.
The top plate which welded double iron configuration provides speaker system well- ocislation controlled stege.
Spikes are effective for clear sound. Customize option spike plates improves total sound quality surely.
Recommended products can be fitted on the plate with screws.
Everything of WST-60HD3 works well, even if it's not a recommended product as common great compact speakers.
It provides an emotional experience that allows you to immediately recognize the difference in sound when you hear it.

Compatible models: B&W 805D3
WST-C60HB

WST-C60HB is the most traditional, simplest , but real effective Speaker Stand ever.

WST-60HB features square pillar as our flag ship HST. FIlling the fixed amount of cast iron powder, this stand brings out the original performane of world-class signature tone.
The top plate which welded double iron configuration provides speaker system well- ocislation controlled stege.
Spikes are effective for clear sound. Customize option spike plates improves total sound quality surely.
Recommended products can be fitted on the plate with screws.
Everything of WST-60HD3 works well, even if it's not a recommended product as common great compact speakers.

Compatible models:B&W 705S2/706S2/707S2
Line up
WST-60HD3

WST-60HD3
<For B&W805D3>
● Top plate : W 238 × D 317 mm
● Bottom plate : W 258 × D 347 mm
● Height : 600 mm
● Weight : 22 kg
● Finish : Black Metallic
● Accessories : Cast iron insulators , felt sheets , Hex Wrench
★Not including spike plate

WST-C60HB

WST-C60HB
<For B&W CM1 , CM5/CM5 S2 , 705S2/706S2/707S2>
● Top plate : W 160 × D 250 mm
● Bottom plate : W 250 × D 350 mm
● Height : 600 mm
● Weight : 11kg
● Finish : Matte Black
● Accessories : Felt sheets , Hex Wrench
★ Not including spike plate
Option
● Diameter : 40mm
● Height : 15mm
● Weight :130g
● Material :Gradation cast iron
● Finish : Matte Black

Recommended option as spike plate insulators for WST series.
Simply designed gradation cast iron insulators improve whole sound more clearly with vibration damping.

PTS-G(4 per set)
● Diameter : 35mm
● Weight : 35g/per
● Material:Stainless steel

PTS-N(4 per set)