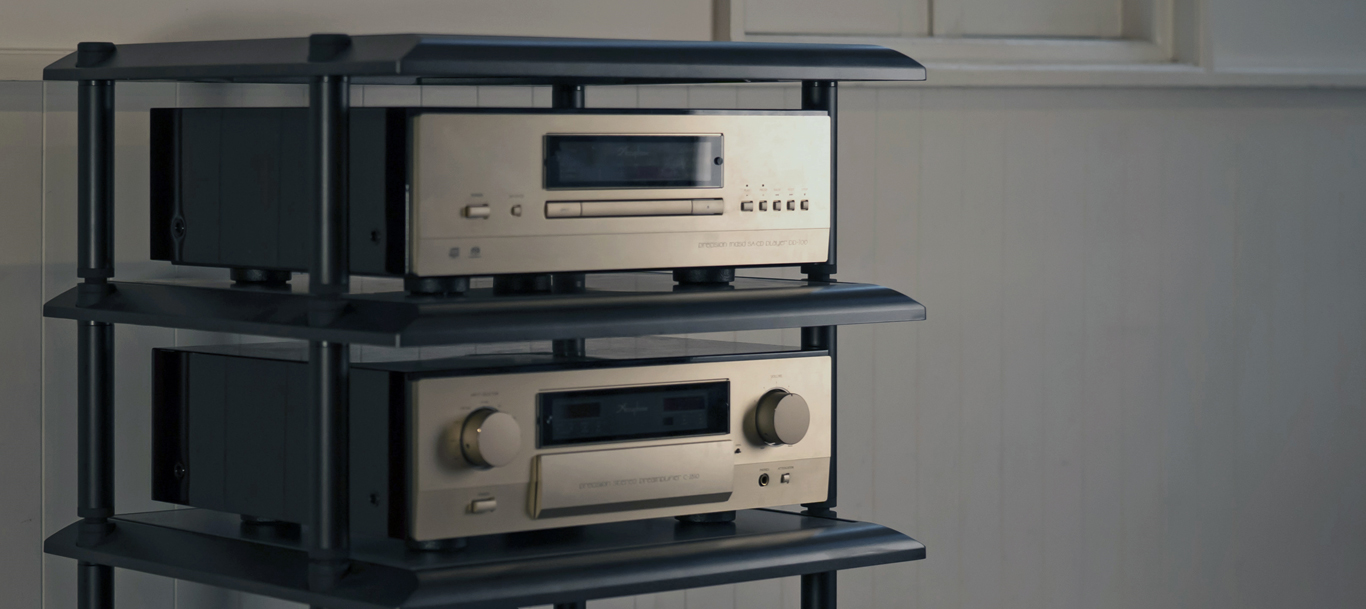 ASRⅢ series evolves AS rack legacy than ever through extensive experomation.

ASRⅢ is simply unprecedented combination of tradition and innovation.
AS line conventionally features the original Aluminum die-cast frame, shelf board with honey-comb core.Bringing in the latest technologies , we engineered the ultimate Hybrid Audio Rack defines the art of professional audio equipment performance and expression at deniable vavue through reexamining almost parts that create the tone without compromise. This major model change is the birth of a completely new Audio Rack with performance that is Incomparable with former AS, ASR series.
ASRⅢ ensures a high-quality acoustic space approaching that of higher-end models through the beautiful design of the die-cast frame and latest high vibration damping effect with new super high carbon cast iron joint method.
Features
01

Shelf board
01

Shelf board

❶ Literally, the shelf is a Special made Audio Board.

ASR shelf board that also absorbs vibration is an Audio Board designed exclusively as CSR rack's one.
TAOC original vibration structure Honey-comb core filling cast iron powder to hexagonal honeycomb structures inside offers high vibration absorption performance through two properties of it , "moderate absorption" and "moderate divergence" by minute friction that occurs when receiving vibration . Furthermore,the honeycomb core sandwich is made of carefully selected wood and hard melamine.
Elaborately crafted like an Audio Board, the shelves offer the effect of bringing out the potential of the device without being hindered by unnecessary vibration.
❷ Only the Tips of the four spikes make a Difference without touching anything.

ASRⅢ features a unique frame as supporting the shelf board only by tips of a four spike insulators with vibration insulation technology.
All shelf boards on which the equipment is placed are purposefully designed not to interfere with any frame inside.
Following CSR design philosophy, "The shelf board, which is the key to the sound, should be independent without touching any parts." , ASRⅢ has a structure that does not transmit the vibration received by the shelf board to other stages and releases it appropriately.
Thus, ASRⅢ floating shelf provide a clear and spacious sound that maximizes the high vibration absorption of the Honey-comb core inside.
❸ The signature of ASRⅢ, molded meticulously under a strict quality control.

A large die-cast frame that is unique in the world, ASRⅢ's trademark, is crafted by Aisin Takaoka's long-accumulated casting technology.
The distinctive form created by industrial designers and TAOC is a exceptional legacy that has been inherited from the first AS series for generations. It has been loved by many musicians and audio lovers over time, and in recent years it has been highly evaluated not only in Japan but also overseas.
Improving Finish color quality, ASRⅢ exhibits refined elegantness.
Frames, pillars and boars have similar colors, giving a sense of unity to the whole, further accentuating the main equipment. Available in two colors, NS (silver metallic) and NB (metallic black).
❹ Incomparably effective damping sheet.
Evolution of invisible parts, to ultimate frame.

The oscilation controling sheet inside the frame has also improved to the highest level in the series.
The new sheet with higher performance efficiently converts vibration energy into heat energy to suppress vibration and adjust the sound of the frame.
Furthermore, in the conventional ASR, there were only two places per frame, but ASRⅢ has been increased to four places.
The damping effect varies significantly depending on the position and number of seats installed.As a result of repeated analysis, we discovered that setting two places on the front and two places on both sides was the most effective balance.
This distinctive die-cast frame, which has improved performance even in areas that cannot be seen at first glance, is a symbol of the evolution of ASRⅢ.
❺ The top cap assembly is also exceptional performance ever.

ASRⅢ features a top cap made by carving out the same super high carbon cast iron as the FC separator in order to fully bring out the original performance of audio equipment.
While holding the top frame, the material characteristics of cast iron are utilized to attenuate vibrations that are not related to music.
The ASRⅢ with the top cap cover added takes twice processes , but there is no compromise in pursuit of the functional beauty and the ideal sound quality .
Controlling reliable vibration at various points, it also prevents resonance inside the Audio Rack..ASRⅢ guarantees sound with natural convergence.
02

Poles
02

Poles
FC separater, new configuration, a phenomenal upgrade since Since the birth of the series.
New vibration suppression function "FC separator" structure, an ideal vibration damping approach for audio, cultivated through various researches and the development of the flagship model CSR series.
Furthermore, in order to achieve the highest quality, we introduced super high carbon cast iron,higher vibration absorption ever.
The FC separator, a newly designed upper / under joint and under spacer, three types of cast iron parts that suppress vibration from above and below the frame, thoroughly removes unnecessary vibration that hinders clear sound and separates the vibration of each stage.

From TAOC's time-honored expertise, we knew changing in the thickness and shape of the parts affect the performance, whole sound very sensitively.
In the final stages of development, we carefully pursued, the ideal balance, unforgettable listening experience.
03

Legs
03

Legs

From CSR to ASRⅢ legs.
Pursuit of own potential.

Based on CSR's cast iron spikes and spike insulators, we have designed a new spike leg for ASRⅢ.
The combination of the vibration damping characteristics of cast iron and the vibration insulation due to the grounding of spikes under the condition that both the spike and the side receiving the spike are made of cast iron
ASRⅢ inherits TAOC's new concept from the aspect of safety.If the spikes come off the receiving side, they may fall , resulting in a serious accident.Therefore, in ASRⅢ, a deep-receive type spike plate is newly designed as in CSR.
The spike leg, symbolizes new TAOC's development philosophy, redefines the sound quality backed by functional beauty of Audio Rack at an deniable value.
Line up
ASRⅢ-1S-NS/NB
● Weight: 10kg
● Load capacity: Up to 100kg per shelf

ASRⅢ-2S-NS/NB
● Weight: 20kg
● Load capacity: Up to 100kg per shelf
ASRⅢ-3S-NS/NB
● Weight: 28kg
● Load capacity: Up to 100kg per shelf

ASRⅢ-4S-NS/NB
● Weight: 38kg
● Load capacity: Up to 100kg per shelf

ASRⅢ-5S-NS/NB
● Weight: 47kg
● Load capacity: Up to 100kg per shelf
Spec/Finish
Frame

Aluminum die-casting
Silver Metallic (NS product numbers)
Black Metallic (NB product numbers)

Poles

Aluminum
Silver Metallic (NS product numbers)
Black Metallic (NB product numbers)

Shelf boards

Five layer construction / W: 500 × H: 22 × D: 450mm
Reversible color finish (semi-matt)

Top cap assembly

High-carbon cast iron

Joint assembly

High-carbon cast iron

Spike assembly and
spike plate

High-carbon cast iron

Cast iron parts finish

Matte Black
load-bearing capacity.(100kg per shelf, 400kg for the entire rack)
Customize
Combining additional units to basic rack, you can build an Audio Rack with your ideal length of pillars or shelf board spacing , number of shelves.
Highly recommended for
● Original rack with a height that perfectly matches your equipment
● Original rack with enough space to dissipate heat from amplifier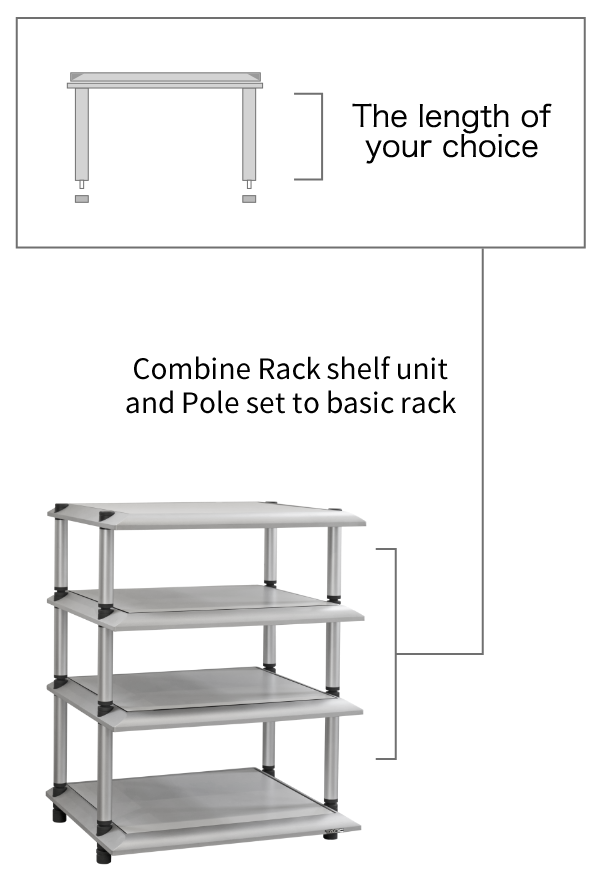 Additional unit




Contains: Frame, shelf board, spikes,
poles, cast iron joints, cast iron
under spacers, bolts

Model number

● Model number

ASRⅢ-F418NS/NB <L:180mm>
ASRⅢ-F423NS/NB <L:230mm>
ASRⅢ-F428NS/NB <L:280mm>
ASRⅢ-F433NS/NB <L:330mm>

<L: Shelf board spacing>
*Choose from the following pole lengths: 180, 230, 280 and 330mm.
Pole Set




● Finish: S: Silver Metallic, B: Black Metallic

● Diameter: 30mm

Model number

● Model number

ASRⅢ-P418S/B <L:180mm>
ASRⅢ-P423S/B <L:230mm>
ASRⅢ-P428S/B <L:280mm>
ASRⅢ-P433S/B <L:330mm>

<L: Shelf board spacing>
*Choose from the following pole lengths: 180, 230, 280 and 330mm.

ASRⅢ-P423B <L:230mm>

ASRⅢ-P423S <L:230mm>
Option
Analog Board

The newly designed Audio Board additional unit for large turntable system

We exclusively developed this master Audio Board unit for enabling turntable system larger than ASRⅢ shelf board (500mm × 450mm) to set your ASRⅢ. Also, it's easy to combine as firstly replacing ASRⅢ top cap cover to unique one contained and then putting Audio Board on. The musical environment with vibration dumping by ASRⅢ with this additional unit provides deep rich tone and real sound with your audio products.
● Features
❶Specially designed master class Audio Board with cast iron powder honey-comb core construction

The Audio Board has five layer original construction with hexagonal space filled cast iron powder, high density woody fiberboards and medium density fiber boards. The board ensures expressing original great musical tone each records have.

❷Hi-carbon cast iron joint system to guarantee stability, exceptional clear sound

Connecting Parts have been made of super high carbon cast iron. The material has excellent characteristics in inter loss for improving sound musically.

❸POLON provides Vibration absorption and scratch prevention

POLON sheets on the frame and top cap covers offer proper oscillation dumping and prevent from scratch.

❹Perfect finish colors for your ASRⅢ

Two colors matched ASRⅢ NS and NB and each offer image possessed of a sense of unity.
● Contains
Outer dimensions : W 700×D 530×H 33mm
Weight : 14kg
Color : silver metallic(NS), black metallic(NB)

●Model number

ASRⅢ-AD-NS/NB

Set
Caster set

Contains:
Four per set
Load-bearing capacity: 120kg/caster
Caster diameter: 60mm
(Attached dimension: 65mm)

CS-114