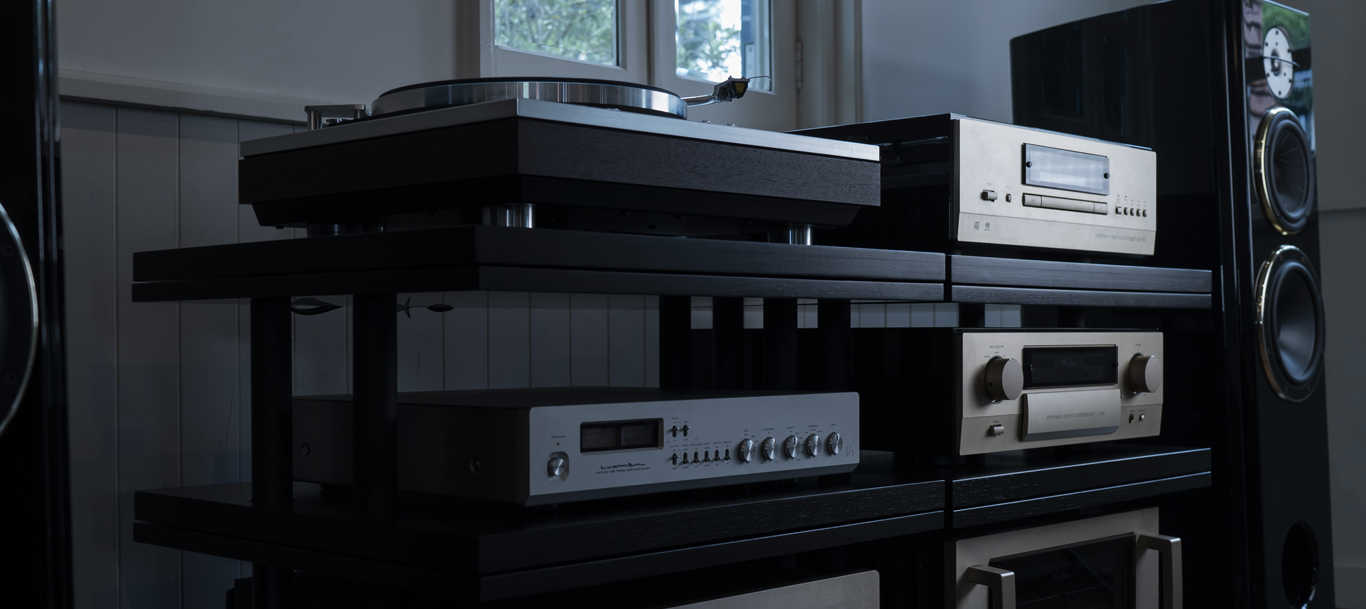 Our Flagship CSR Series is the pinnacle of Audio Racks we have been pursuing and finally achieved, the culmination of TAOC vibration damping and oscillation control.
In other words, it's just our new origin.

Audio Rack is a symbol of TAOC technology. Since introducing initial rack SS series, we have been developing the tradition and researching more effective method to create finest audio equipment.

The CSR inherit original CS rack , which is especially acclaimed among the all the our Audio Racks , and we thoroughly crafted with all of our technology and method we own ever for ensure the performance in not only home audio, but also professional musical environment as recording studio or mastering studio and more.
Features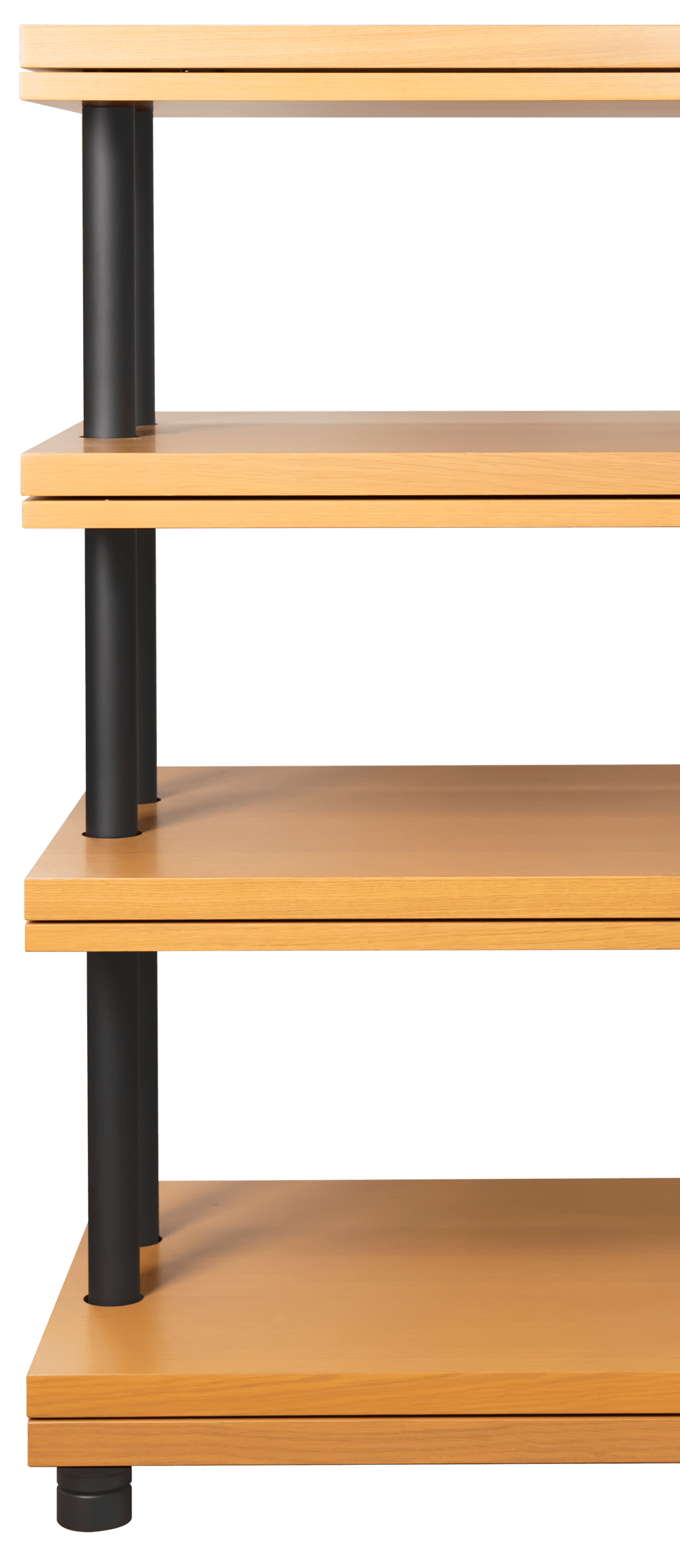 01

Shelf board
01

Shelf board
❶ CSR shelf board is the most finest, thickest Audio Board specially made.
CSR shelf board is an undeniable Audio Board designed exclusively.
TAOC original vibration structure Honey-comb core filling cast iron powder to hexagonal honeycomb structures inside offers high vibration absorption performance through two properties of it , "moderate absorption" and "moderate divergence" by minute friction that occurs when receiving vibration .
In other words, CSR shelf board provide your audio equipment  with best-in-class concert stage that brings fully original performance of them.
It's not applied just the look and feel of natural wood.
We are always committed to quality of sound.
The surface material of board to sandwich the honeycomb core features selected natural wood delivers that rich acoustic resonance , Superior tone with a core.
CSR also features two shelf board finish to choose from : Dark and Light.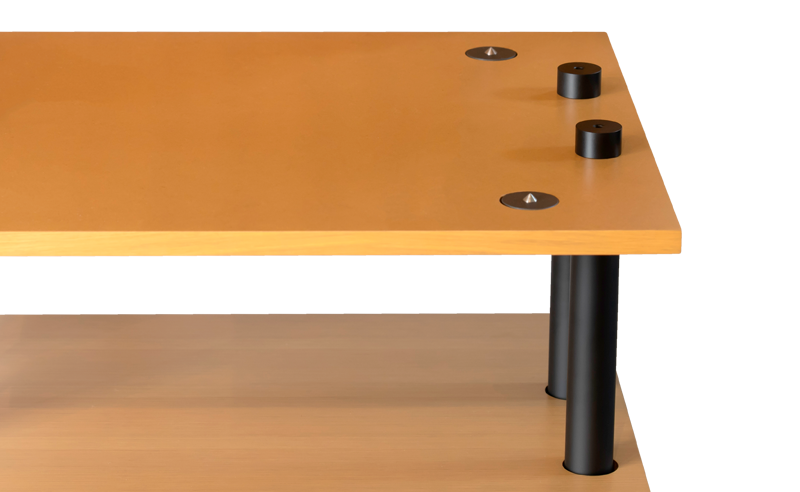 Less is more. The essence is to balance and control.
Honeycomb core is not used for the fixing board that supports the shelf board as Audio Board from below with the cast iron spike insulator.
We started our research with a prototype that used honeycomb cores for all boards, and after thorough auditioning and verification, we decided to use honeycomb cores only for the upper shelf board.
TAOC's commitment is to find the best balance for the entire shelf and even the Audio Rack as a whole.
❷ Only the tip of spike insulator is touched.
CSR has adopted an innovative floating configuration in which one shelf is composed of two boards, as supporting only by tips of a four spike insulators.
All the upper shelves on which the equipment is placed are designed not to interfere with any parts as top shelf with cast iron top cap, others with pillars.
Specially designed spike insulator is from our long-seller pin plate insulators, which has a track record of more than 20 years in the insulator field, allows the vibration of the shelf board to escape moderately without transmitting it to other stages, achieving extremely clear sound quality with unprecedented shelf configuration.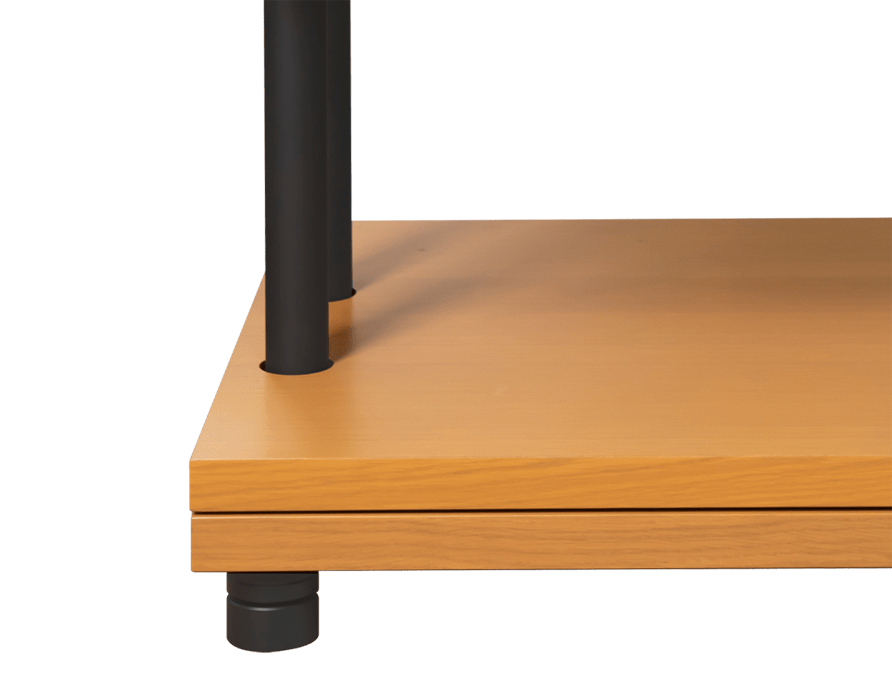 ❸ Even the fixing parts are made of cast iron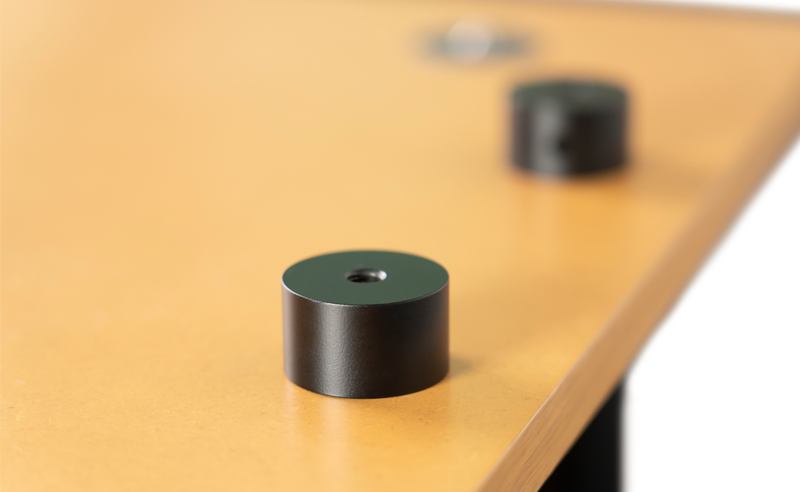 Top caps made of cast iron is our standard , transcended as classic TAOC's racks . While holding the uppermost fixing plate, it works to remove unnecessary vibration by taking advantage of the material characteristics of cast iron.
What brings us utilize cast iron material incessantly?
Since it's the best way we consider through our craftsman-ship in nearly 40 years.
Performing reliable vibration control everywhere and preventing resonance inside the Audio Rack, CSR offers natural sound convergence in any sound , any place.
❹ Unrivaled solid foundation, it makes a Huge difference.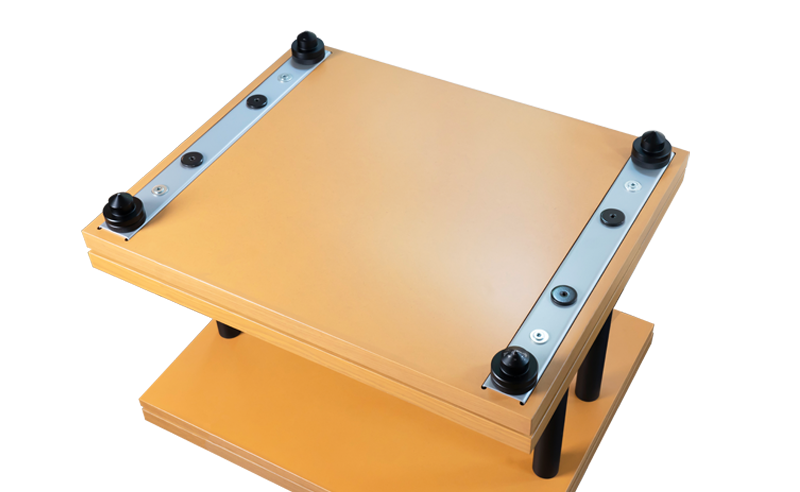 The bottom shelf, which is the base of the entire rack, has an unprecedented special specification that not only increases the thickness but also has a reinforcing material inside and a custom-made reinforcing steel plate on the bottom to prevent unnecessary resonance of the entire rack at a very high level.

In the case of Japanese houses, we can live our daily lives with deep relaxation because the stones that receive the pillars are surely solid.
Similarly, the structure of the Audio Rack also has clearly different measurement results depending on the foundation even if the damping environment can be controlled for each stage.
The total damping configuration offers an environment with precise vibration control from the bottom to the tip of the needle of an turntable system that is often installed at the top stage,

CSR is an overall expression of restraint damping technology with thorough high rigidity and low center of gravity design.
High S / N, which is also expressed as silence, prevents unnecessary vibration amplification takes the entire system to the next level.
02

Poles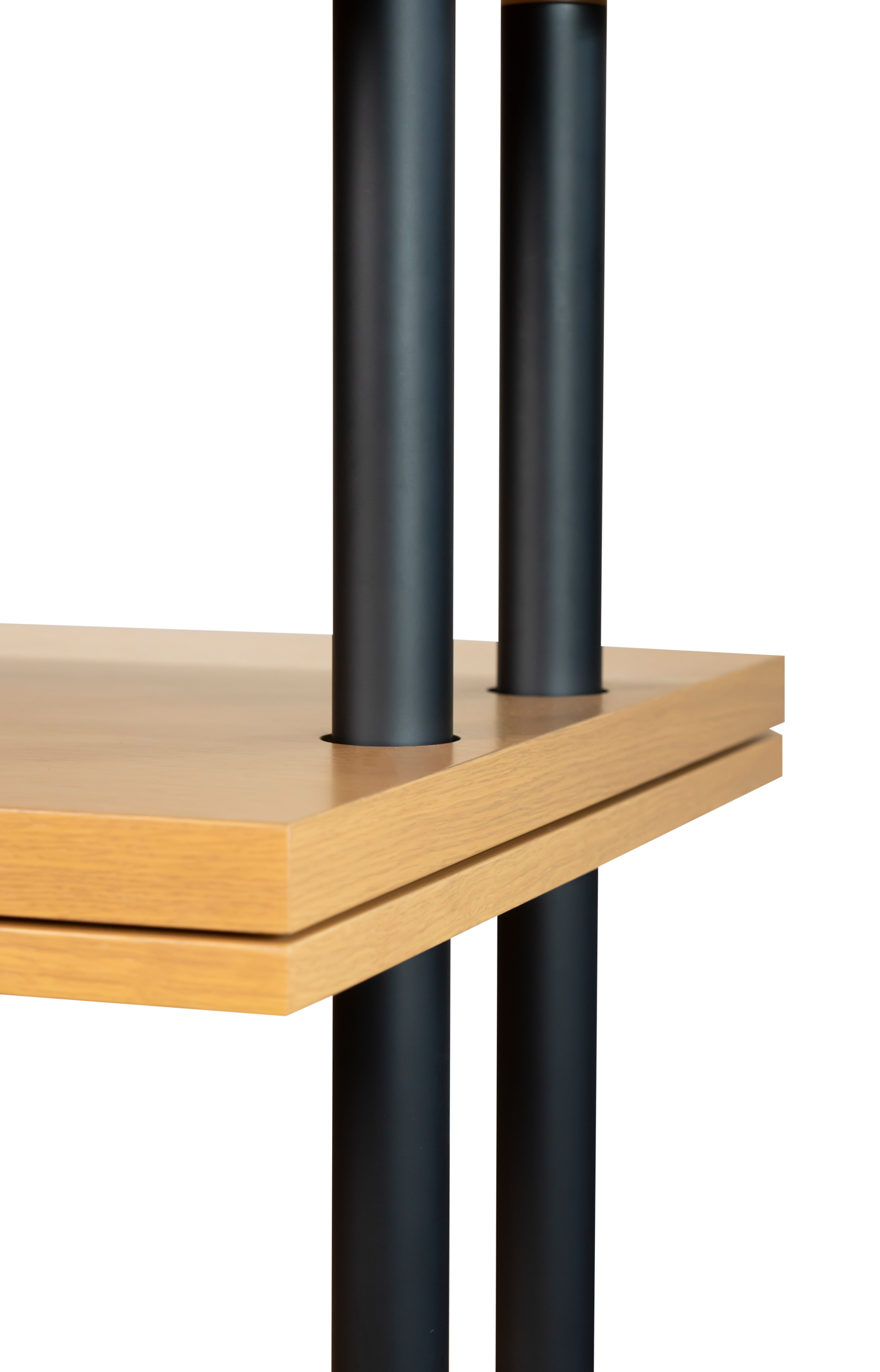 02

Poles
All the CSR's pillars are almost Speaker Stand's one.
Craftsmanship and innovation in perfect harmony.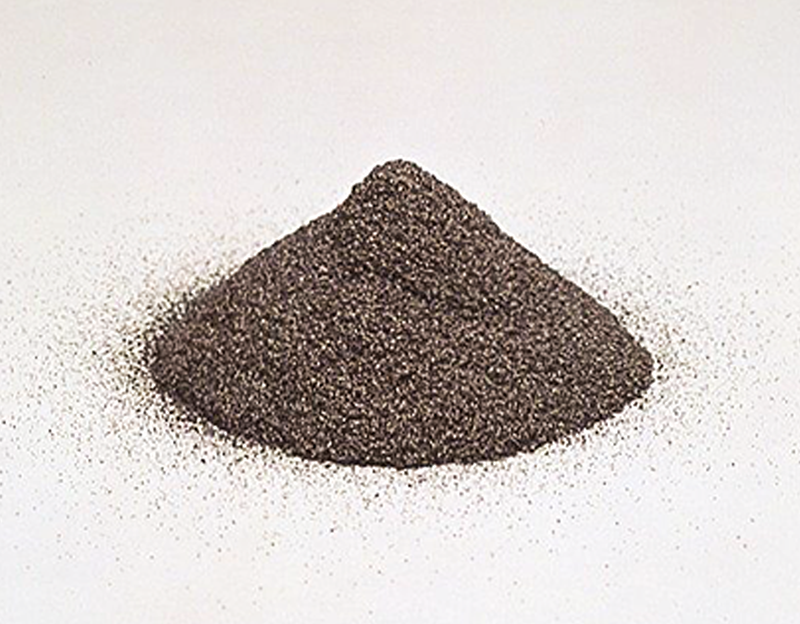 CSR pillars feature a unique configuration with cast iron powder filled inside, which is unprecedented in racks around the world.
Applying the friction damping technology of the cast iron powder filled pillars of the TAOC Speaker Stand, CSR support converts it into thermal energy and converges the vibration propagation without affecting other stages.This innovative pillars enable all lstage provide high quality vibration damping environment as same consistently.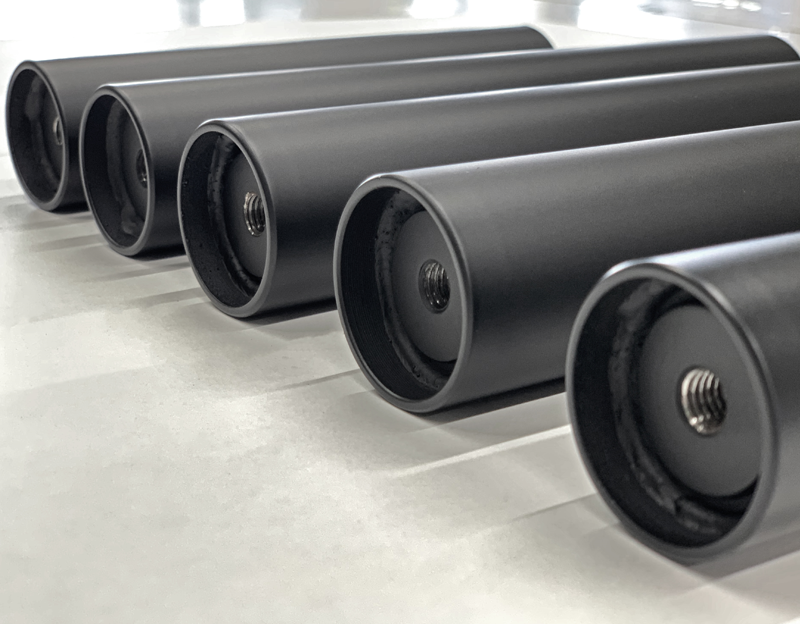 The CSR pillars have the same concept as that of a Speaker Stand, but each process is significantly different.We lined up a number of prototypes with different materials and shapes, conducted thorough auditions of various music and made countless measurements, and achieved the ideal pillars.
This ultimate pillar can only be created by skilled craftsmen , due to its special structure.
03

Legs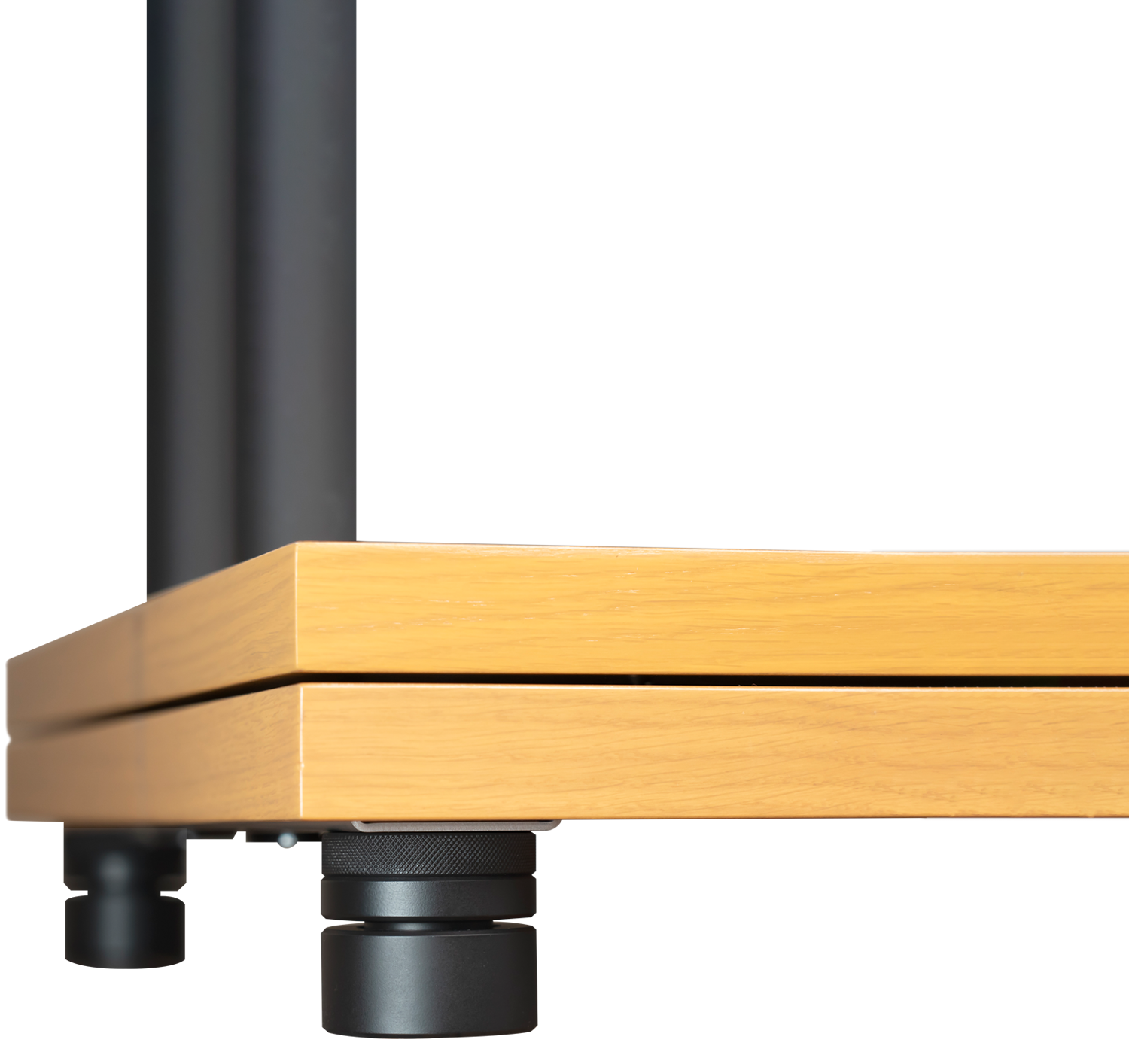 03

Legs
For professionals, Functionality, Safety and High quality sound are all here.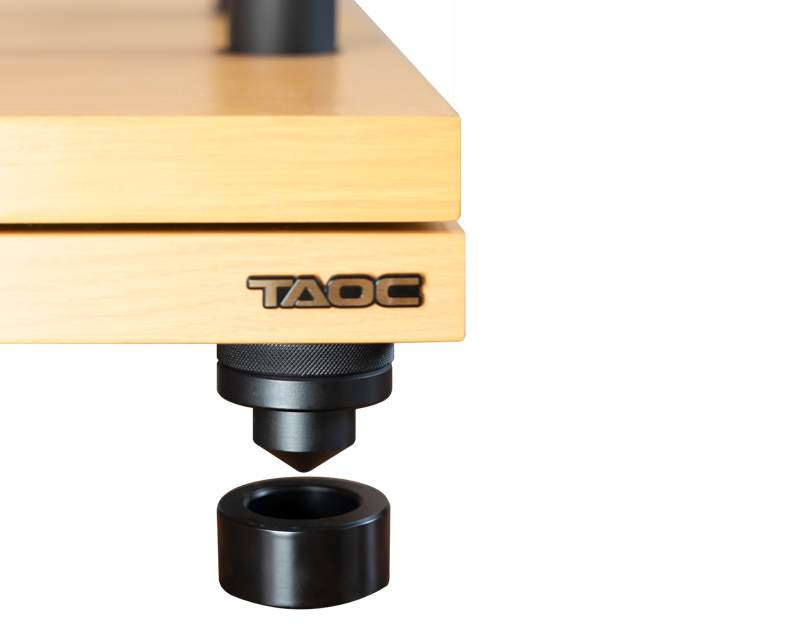 The final step in designing the ultimate Audio Rack is to make all the cast iron spikes, deep receiver plates, which is an unprecedented attempt for us.
The combination of the pin-structured vibration isolation technology and the vibration damping technology of cast iron, which was derived from the research results, can dramatically improve the sound resolution and S / N.

The heavy and large legs are the base that enable always perform stably anywhere, regardless of the influence of the floor. Cast iron locknuts are an exclusive specification.

Spike plates are designed with innovative deep receiving type. If the spikes come off the plate, it can cause a serious accident such as a fall.
The deep receiving structure adopted for the first time in CSR has lateral followability and prevents spikes from slipping off. The functional design provides great reliability to all users, including professional musicians.
Line up
CSR-1S-L/D
● Weight: 17kg
● Load capacity: Up to 100kg per shelf

CSR-2S-L/D
● Weight: 34kg
● Load capacity: Up to 100kg per shelf
CSR-3S-L/D
● Weight: 50kg
● Load capacity: Up to 100kg per shelf

CSR-4S-L/D
● Weight: 66kg
● Load capacity: Up to 100kg per shelf
Spec/Finish
Poles

Steel pipe lled with cast iron powder

Shelf boards

Five-layer construction with honeycomb core filled cast iron powder
W: 620 × H: 27 × D: 500mm

Holding board

High-density MDF
W: 620 × H: 18 × D: 500mm (for top and middle shelves)
W: 620 × H: 30 × D: 500mm (for bottom shelf)

Shelf board support

Spikes and plates

Legs

Cast iron spikes and cupped plates

Color

Light (L) Dark (D)
Customize
Combining additional units to basic rack, you can build an Audio Rack with your ideal length of pillars or shelf board spacing , number of shelves.
Highly recommended for
● Original rack with a height that perfectly matches your equipment
● Original rack with enough space to dissipate heat from amplifier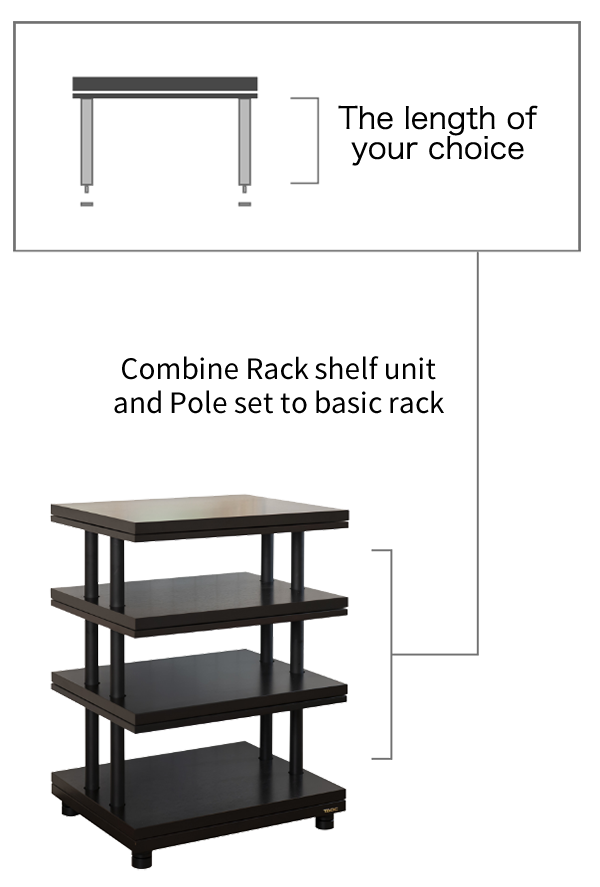 Additional unit




Contains:
Shelf board,Holding board, Shelf board supporting spikes, poles, bolts

Model number

● Model number

CSR-F413L/D <L:130㎜>
CSR-F418L/D <L:180㎜>
CSR-F423L/D <L:230㎜>
CSR-F428L/D <L:280㎜>
CSR-F433L/D <L:330㎜>

<L: Shelf board spacing>
Option
Caster set

Contains:
Four per set
Load-bearing capacity: 120kg/caster
Caster diameter: 60mm
Racks will be 85mm higher when casters are used.

CS-214
Pole set




Model number

● Model number

CSR-P413 <L:130㎜>
CSR-P418 <L:180㎜>
CSR-P423 <L:230㎜>
CSR-P428 <L:280㎜>
CSR-P433 <L:330㎜>

<L: Shelf board spacing>

CSR-P423 <L:230mm>