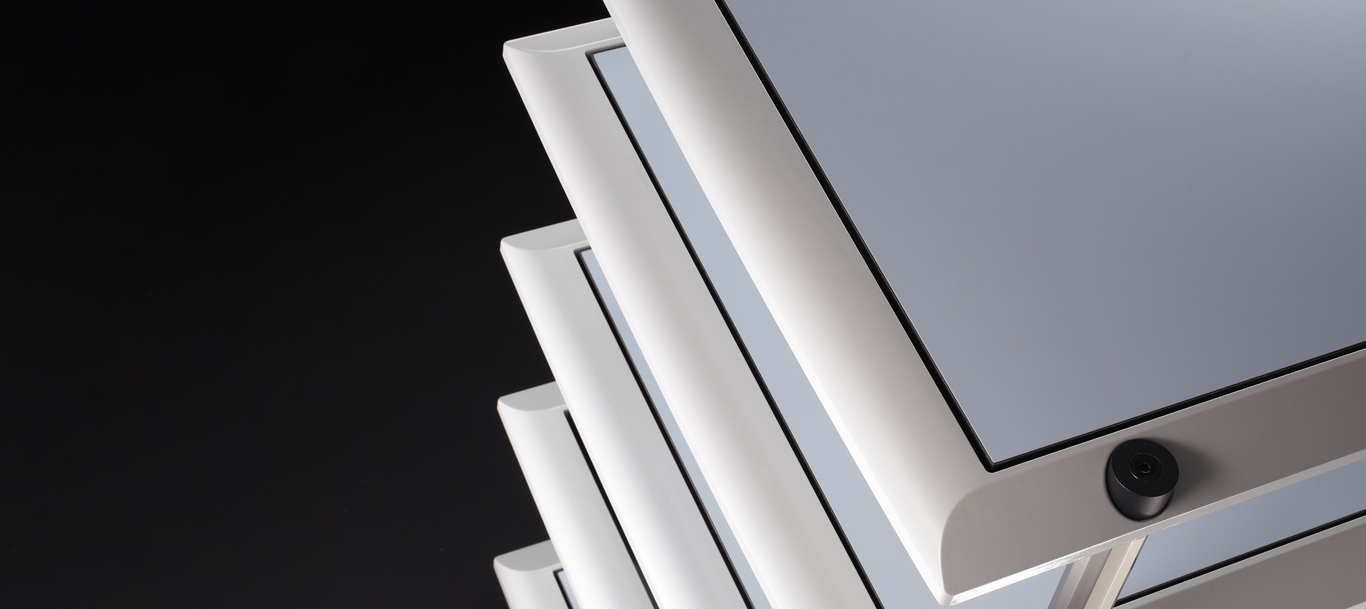 Hybrid configuration enabled
the marriage of stylish form
and performance.

The signature aluminum die-cast frame, pole with cast iron parts, Honey-comb core shelf board ensure well-balanced acoustic space for whole audio system.
ASRⅡ, which is lightweight but has high rigidity that effectively adapted cast iron, is one of the TAOC's original lines that has not changed since 2003.
Features
01

Shelf board
01

Shelf board

❶ ASR shelf board is the remarkable Audio Board.

ASR shelf board that also absorbs vibration is an Audio Board designed exclusively as CSR racks.
TAOC original vibration structure Honey-comb core filling cast iron powder to hexagonal honeycomb structures inside offers  high vibration absorption performance through two properties of it , "moderate absorption" and "moderate divergence"  by  minute friction that occurs when receiving vibration . Furthermore , the honeycomb core sandwich is made of carefully selected wood and hard melamine.
The performance approaching that of higher-end models of the board provides the effect of fully demonstrating the potential of the device without being hindered by unnecessary vibration.
❷ Spike supporting configuration makes difference.

ASRⅡi features a unique frame as supporting the shelf board only by tips of a four spike insulators from vibration insulation technology as ASRⅢ.
All the shelf boards on which the equipment is placed are designed not to interfere with any frame inside.
Following CSR design philosophy, "The shelf board, which is the key to the sound, is made independent without touching any parts." , ASRⅡi has a structure that does not transmit the vibration received by the shelf board to other stages and releases it appropriately.
In addition, by floating the shelf board, we have realized a clear and spacious sound that maximizes the high vibration absorption and sound quality of the Honey-comb core shelf board.
❸ The signature frame, our identity with craftsmanship

A beautiful and lightweight shelf frame, Nothing like any product in the world is made with the casting technology that Aisin Takaoka has accumulated for many years, our legacy from initial AS rack series since 2003. Beautiful finishes NS(metallic silver), NB(metallic black ) are ready to fit your audio system.

❹ Oscillation-controlling sheet

Two sheets per stage to tune resonance of frame.
Just two sheets, but make difference.
02

Poles
02

Poles
Cast iron spacer is essential
Cast iron spacers are fitted to pillars to improve vibration-damping performance as not transmit unnecessary vibration to other stages.
03

Legs
03

Legs

Durability with Cast iron leg

Traditional cast iron legs ensure high durability, vibration damping in any situation. Upgrading cast iron spike and plate, get closer to ASRⅢ performance through vibration insulation technology, friction damping technology.
Line up
ASRⅡ-1S-NSi/NBi
● Weight: 10kg
● Load capacity: Up to 100kg per shelf

ASRⅡ-2S-NSi/NBi
● Weight:19kg
● Load capacity:Load capacity: Up to 100kg per shelf
ASRⅡ-3S-NSi/NBi
● Weight:27kg
● Load capacity:Load capacity: Up to 100kg per shelf

ASRⅡ-4S-NSi/NBi
● Weight:36kg
● Load capacity:Up to 100kg per shelf

ASRⅡ-5S-NSi/NBi
● Weight : 45kg
● Load capacity: Up to 100kg per shelf Up to 400kg for the entire rack
Spec/Finish
Frame

Aluminum die-casting
Silver Metallic (NS product numbers), Black Metallic (NB product numbers)

Poles

Aluminum
Champagne Gold

Shelf
board

five-layer construction W: 500 x H: 22 x D: 450mm
Reversible color finish (semi-matt)

Spacer

Aluminum
Cast iron

Legs

Aluminum
Black
Cast iron (with lock nut)

Load
capacity

Up to 100kg per shelf Up to 400kg for the entire rack
Customize
Combining additional units to basic rack, you can build an Audio Rack
with your ideal length of pillars or shelf board spacing , number of shelves.
Highly recommended for
● Original rack with a height that perfectly matches your equipment
● Original rack with enough space to dissipate heat from amplifier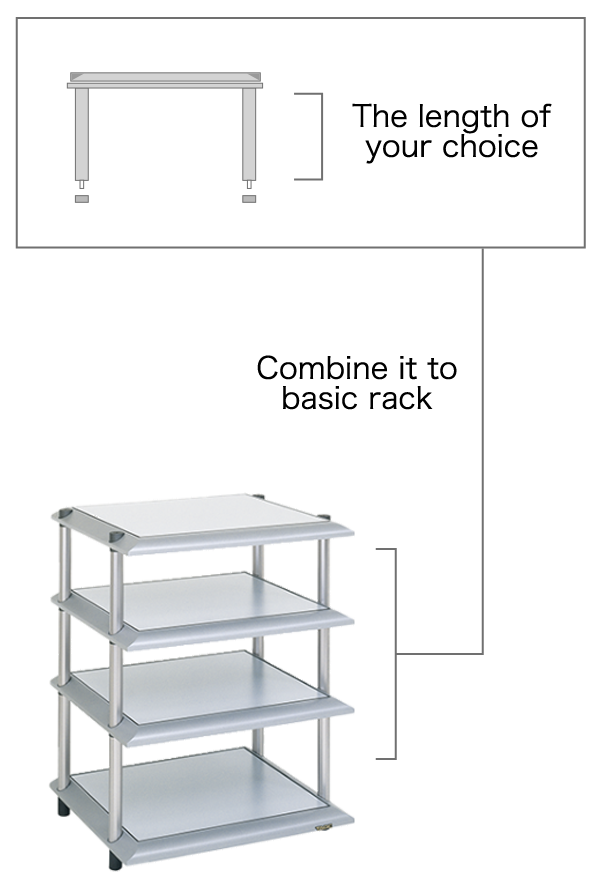 Additional unit




● Contents
 Contains: Frame, shelf board, spikes, poles,
 cast iron spacers, bolts

● Finish
 NSi: Silver Metallic frame
 NBi: Black Metallic frame

Model number

●Model number list

ASRⅡ-F418NBi/NSi<L:180mm> ASRⅡ-F423NBi/NSi<L:230mm>
ASRⅡ-F428NBi/NSi<L:280mm> ASRⅡ-F433NBi/NSi<L:330mm>

<L: Pole length>

Set content
Pole set




● Finish: Champagne Gold
● Diameter: 30mm

Model number

●Model number list

ASRⅡ-P418i<L:180mm> ASRⅡ-P423i<L:230mm>
ASRⅡ-P428i<L:280mm> ASRⅡ-P433i<L:330mm>

<L: Pole length>

ASRⅡ-P423i<L:230mm>
Option
Cast iron spikes and plates

・Four per set
・Diameter: 32m
・Height: 20-25mm

SP-500
Caster set

・Four per set
・Load-bearing capacity:100kg/caster
・Caster diameter: 60mm
 (65mm higher when CS-120 are installed. )

CS-120